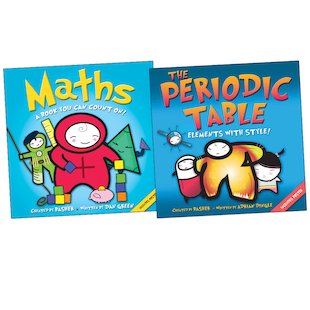 Look inside
Basher: Maths and Periodic Table Pair
Urban artist Simon Basher gives maths and science a manga makeover in these cool books of punchy personalities – from Zero right to Infinity! In a blend of facts and edgy urban art, these colourful books take a streetwise look at elements and numbers, giving them their very own quirky manga personalities which are brought to dramatic visual life. Meet sinister Mercury, the silver-coloured killer; funky Neon, who makes disco lights flash; bubbly Zero, who can dissolve you into nothing – and mysterious Pi, who goes on and on and on! It's learning with attitude!
Praise for the series:
"The look is punchy, immediate and effective. The content is equally gripping." The Guardian
"This blending of science and art is pure genius." www.writeaway.org.uk
Who's reading this?
We want to read this book