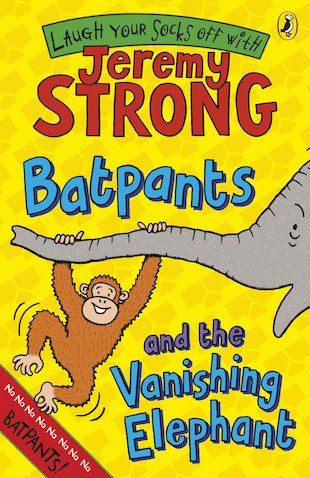 Look inside
Batpants and the Vanishing Elephant
FANTASTI-BUBBLY-CRUMBO!
When you live with an orang-utan who loves apple crumble and roast chicken, not much will surprise you. So when the Lovehart family get a MEGA-MASSIVE DELIVERY, it's an elephant… obviously! Gentle Fudge has come to stay – but all of a sudden, he disappears. Worst of all, the elephant-nappers want a TWO MILLION POUND ransom! Can Batpants swing into action to save her mammoth mate? Never fear – she's on the trail! Hoo hooo hooooo ha ha ha ha ha!
Fun Stuff
Activities
Unjumble the letters to form titles of books by Jeremy Strong.

Speed up your desktop with this brilliant Hundred-Mile-an-Hour Dog wallpaper.

This is a weird and wonderful wordsearch!

Set Krazy Kow loose on your desktop!
Who's reading this?
We want to read this book