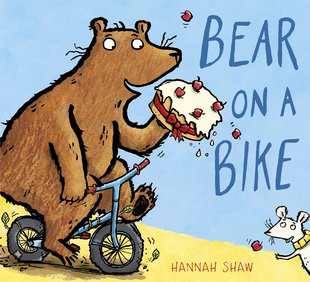 Look inside
Bear on a Bike
Tee hee! Say hello to the cutest picture book bear in ages. He likes bikes. He likes cake. He really likes making you giggle. Ting Ting! Bear coming through! But where is our huggable hero going? And why is he carrying a yummy cake? Find out in this funny story. We'll give you a clue: it's Mouse's birthday. Bear would like to give him a lovely surprise. But he's late for the party! Will Bear and his cake arrive in one piece? Without even a single strawberry getting gobbled? PS: if you liked The Disgusting Sandwich, this not-at-all disgusting picture book is by the genius artist who did the pictures for it. Lovely.
Hilarious picture book by an award-winning rising star
Perfect for any child who likes bears, cakes and vehicles
Hannah Shaw is a successful illustrator turned author
Her funny writing and charming pictures are a delight
#hiddengems-0517
Who's reading this?
We want to read this book