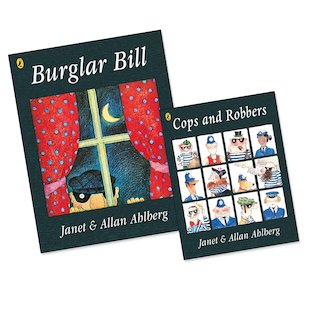 Look inside
Burglar Bill with FREE Cops and Robbers Mini Edition
It's a steal! A funny Ahlberg classic with a FREE mini book. One very naughty rogue. One dastardly Christmas Eve plot. Every night, the rascally Burglar Bill eats a stolen supper and goes out pinching things. But when he accidentally steals a baby, it turns his naughty life upside down! Join this cheeky crook in a story full of funny antics. Then keep the giggles going in your FREECops and Robbers mini paperback.
Two classic favourites by Janet and Allan Ahlberg
Includes a mini Cops and Robbers absolutely free!
Best-loved funny stories with iconic colour pictures
Janet Ahlberg won the Kate Greenaway Medal twice
#2015-highlights
#bedtime-stories-1016
Fun Stuff
Activities
Download this gorgeous 'Counting with Janet and Allan Ahlberg' poster.
Who's reading this?