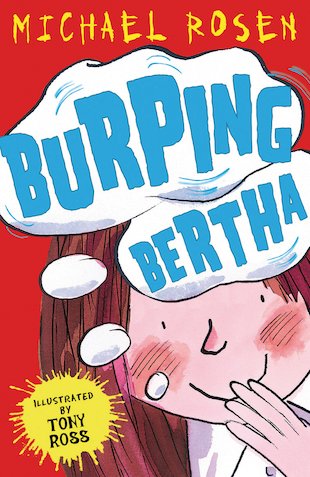 Look inside
Burping Bertha
A super-silly favourite by funny genius Michael Rosen. Can you burp as loud as Bertha? We bet you can't: nobody can! Bertha's burps are so powerful they knock apples off trees. They deflect footballs, and send her teacher's glasses flying! In some schools, she'd get told off. (Sigh.) Instead, Bertha's headmistress asks her to perform at the school concert. From that moment on, Bertha is famous! Newspapers beg for her story. She stars on TV shows. Record deals and film offers flood in. But as Bertha's burps get bigger and bigger, will her talent get her into trouble?
A witty cautionary tale by star author Michael Rosen
Funny pictures by Horrid Henry illustrator Tony Ross
Michael Rosen is one of the UK's top children's authors
He served as Children's Laureate from 2007-2009
Who's reading this?
We want to read this book