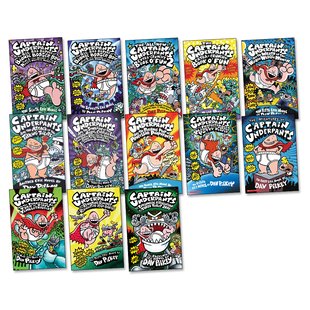 Look inside
Captain Underpants Pack x 13
The original classic quests, in black and white as pure as the cotton of the Captain's pre-shrunk pants. Hours of fun and flip-o-rama with the mighty Waistband Warrior. Do you think silly names like Dr Diaper and Professor Poopypants are funny? What about evil villains with shaming toilet troubles? (Tee-hee!) Or silly cartoons and jokes about knickers? If the answer to those questions is YES, you need these books. A must if you love to laugh. Yup – we know you do!
Hugely popular bestsellers loved by kids worldwide
Over 70 million Captain Underpants books sold
Winner of a Disney Adventures Kids' Choice Award
Brilliant mix of funny writing and cartoon pictures
#crown-jewels
Fun Stuff
Activities
Happy Underwear Day! A Captain Underpants pic for you to colour!

Pants, wedgies and toilets… a fun Captain Underpants crossword for you!
Who's reading this?