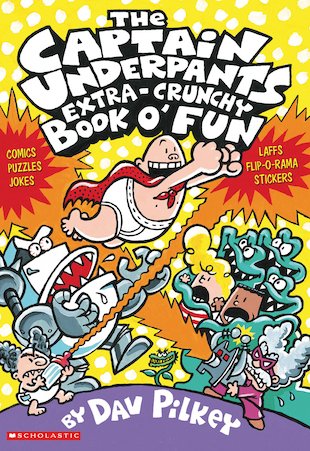 Look inside
Captain Underpants: The Captain Underpants Extra-Crunchy Book O'Fun!
Pull on your superhero pants and zoom into action! It's time to join George, Harold and Captain Underpants for fun, games and wedgie-powered pranks! Let rip with gut-busting jokes, crispy chuckles and chunky puzzles. Draw your favourite characters. Make your very own comic book, complete with a world-famous cheesy FLIP-O-RAMA. And fly by the seat of your pants as you pit your wits against frightful Professor Poopypants's Preposterous Puzzles of Perplexing Peril! May the pants be with you!
Fun Stuff
Activities
Wedgie power! A fun Captain Underpants picture to colour.

Happy Underwear Day! A Captain Underpants pic for you to colour!

Pants, wedgies and toilets… a fun Captain Underpants crossword for you!

A great picture of Captain Underpants to colour and keep.