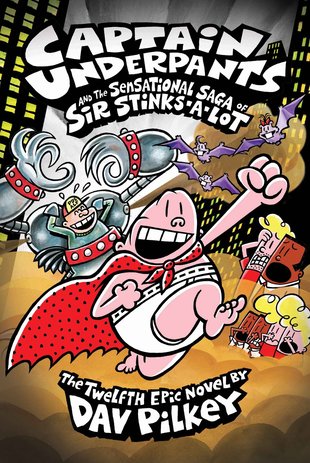 Look inside
Captain Underpants #12: Captain Underpants and the Sensational Saga of Sir Stinks-a-Lot
You know that evil gym teacher with stinky sneakers who wants to take over your school? Here's how to stop it. (Wear pants. Hold your nose.) George and Harold and their doubles, Yesterday George and Yesterday Harold, have a good thing going. Two of them go to school, while the other two play video games. Then they switch! But their stinky gym teacher, Mr Meaner, is hatching an evil plot to create totally obedient robot pupils. There's only one line of defence: the Captain. And a peg on your nose.
#pick5-books-for-10
#rr-year3
Fun Stuff
Activities
Happy Underwear Day! A Captain Underpants pic for you to colour!

Wedgie power! A fun Captain Underpants picture to colour.

Pants, wedgies and toilets… a fun Captain Underpants crossword for you!

Learn how to draw Captain Underpants with our handy step-by-step guide.
Who's reading this?