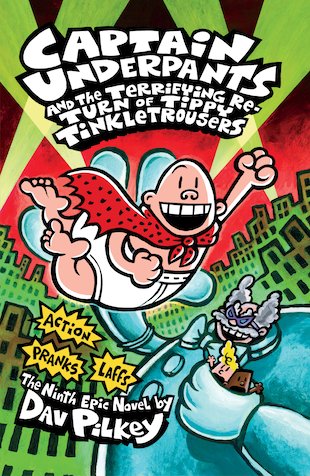 Look inside
Captain Underpants #9: Captain Underpants and the Terrifying Return of Tippy Tinkletrousers
The Captain faces a pee-pee powered villain. Flip-o-rama, silly jokes and crazy cartoons. So funny you'll have to cross your legs. Do you remember naughty Professor Poopypants? Well, he's back. He's changed his name to Tippy Tinkletrousers, but he hasn't changed his evil ways. He's armed with a laser-shooting Freezy-Beam 4000, and he's ready to zap anyone who stands in his way. Who can stop him? Who do you think? Our wedgie-powered hero, Captain Underpants, of course.
#reading-lists-7
Fun Stuff
Activities
Try your luck at the Cafeteria Ladies' Crafty Crossword!

Happy Underwear Day! A Captain Underpants pic for you to colour!

Wedgie power! A fun Captain Underpants picture to colour.

Can you complete this perplexing peewee-powered puzzle?

Pants, wedgies and toilets… a fun Captain Underpants crossword for you!

Yum yum, eat 'em up! It's the Talking Toilets Maze!

A great picture of Captain Underpants to colour and keep.

Learn how to draw Captain Underpants with our handy step-by-step guide.

Learn how to draw the Turbo Toilet with our handy step-by-step guide.
Who's reading this?
We want to read this book