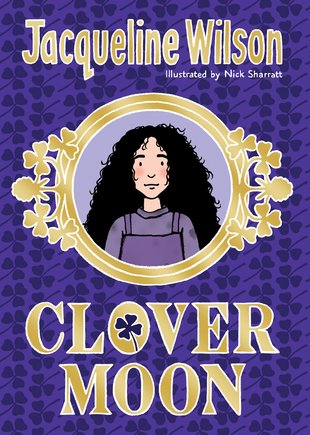 Look inside
Clover Moon
Even the title is gorgeous! If you love Hetty Feather, you'll adore Clover's tale of art and survival in Victorian times. Life isn't easy in London's poor back-alley slums. Clover's rich imagination is her only escape. But when tragedy strikes, everything Clover loves about the place she calls home is suddenly gone. Is there a place she can run to? Will Clover have the courage to break free? Can she survive without her family, and find a new place to call home? Most importantly of all – will she get to meet Hetty Feather? Jacky tells all!
The latest glorious read from this superstar author
Back to Victorian times with a brave new heroine!
Perfect for fans of Hetty Feather, with an arty twist
Beautifully illustrated by top artist Nick Sharratt
"An eye-catching gem… It is Hetty Feather for the next generation." Lovereading4kids.co.uk
"Such a wealth of detail…. It portrays the trials and tribulations of life in Victorian England vividly and with compassion." Bookbag
#bedtime-stories-1016
#teen-christmas16
#newreleases-221116
#giveabook-2511
#www-offer-2511
#8-11years-1212
#top12-126
Who's reading this?
We want to read this book