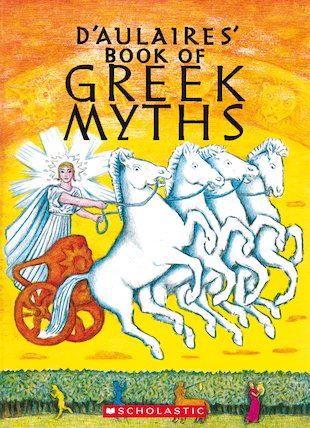 Look inside
D'Aulaires' Book of Greek Myths
The classic book of Greek myths, combining stirring retellings of the stories with vibrant, swirling illustrations. From the birth of Gaea, Mother Earth, to the bloodthirsty clashes of the gods who came later, discover the larger-than-life world of the Olympians. Thrill to timeless tales of beautiful, radiant gods, terrifying monsters and great heroes. Stories of petty squabbles between jealous immortals who should have known better; and of terrible wars, true love and epic quests. A must for any child who loves the Greek myths, and for anyone who doesn't yet know them, this book is a captivating introduction to some of the greatest stories ever told.
"The drawings… are excellent and excitingly evocative." New York Times
"The D'Aulaires' illustrations have a memorable quality: once pored over, they will never leave the minds of the viewer. Decades later, the name Gaea will still evoke the soft green picture of lovely Mother Earth… This introduction to mythology is a treasure." Emilie Coulter
Who's reading this?
We want to read this book