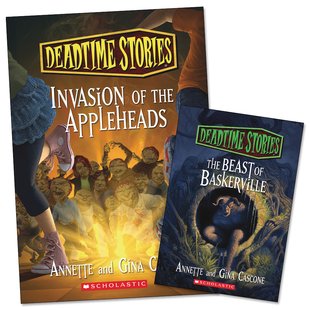 Look inside
Deadtime Stories: Invasion of the Appleheads with FREE Mini Book
Creepy shrunken applehead dolls! Twisted treats for Neil Gaiman fans. When Katie and Andy's parents take them to Appleton's famous apple orchard for a haunted hayride, it's not fun – it's scarily weird. The ghouls who haunt the orchard seem spookily real. Then their parents disappear – and in their place, Katie and Andy find shrunken applehead dolls. Horribly creepy stuff, with gruesome seconds to follow. Why are the streets of Baskerville so deadly after dark?
Brilliantly creepy tales to share beside the campfire
With a

FREE

mini book of The Beast of Baskerville
Deadtime Stories is now a hit show on Nickelodeon
Eerie, atmospheric horror to get kids totally hooked!