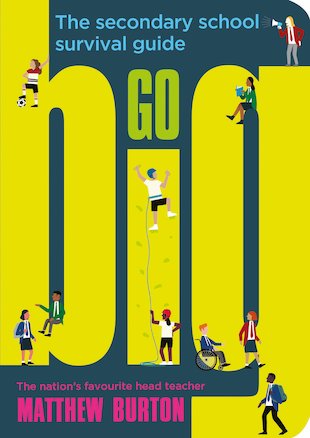 Look inside
Go Big x 10
Big kids. Big corridors. Big exams. Eeek? Ditch the panic. Learn to survive and thrive with Britain's favourite headmaster. Whether you're soon to land at secondary school or you're already settling in, head teacher Mr Burton – star of Channel 4's Educating Yorkshire – is here to guide you through your journey. At first, it might all seem scary. But this handbook will help you ace your schoolwork, find great friends, boost your confidence, feel good and do your best. Make the most of Big School, from your first day to your final exams!
A school handbook full of inspiring tips and ideas
Helps kids achieve, succeed and reach their potential
Entertaining, perceptive, practical and very readable
Explores topics such as future goals and peer pressure
A great way to help pupils achieve more and worry less
Matthew Burton is a truly inspiring teacher and writer
Supplied as a pack of 10 copies.