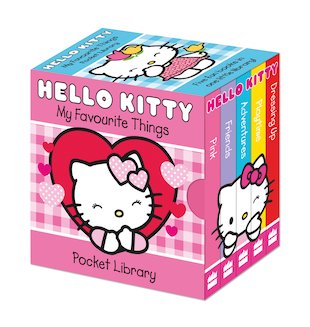 Look inside
Hello Kitty: My Favourite Things Pocket Library
This irresistible library of mini books lets you get close to the things Hello Kitty loves most: the colour pink, dressing up, exploring, fun and games – and her friends, of course! Each scrumptious little book covers one of Kitty's favourite topics. So read on to find out just what she has to say about it! In simple words and gorgeous pictures full of ice cream colours, Hello Kitty gives you a snapshot of what it means to live a charmed life like hers, full of truly special things!
Slipcase box contains five mini books titled Pink; Friends; Adventures; Playtimes; Dressing Up.
Fun Stuff
Activities
Make some new year's resolutions with your favourite feline friend!
Who's reading this?