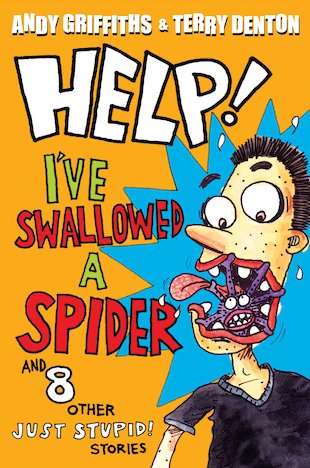 Look inside
Help! I've Swallowed a Spider
A crazy collection of totally stupid stories from one of the galaxy's funniest authors – specially created for barking bonkers kids like YOU! But are you daft enough to read this barmy book? Well – do you push doors marked pull and pull doors marked push? Do you worry about getting sucked into the top of escalators? Do you think that being able to stuff your mouth full of marshmallows is a sign of superior intelligence? Do you believe a bogeyman lives under your bed? If the answers to these questions are 'YES', then you're definitely the kind of fearless, freaky, daft-as-a-brush daredevil who'll do or try almost anything. So try these silly stories, and get ready to laugh like a loon!
Praise for Andy Griffiths:
"Just hilarious, screwball, ridiculous and very, very funny." The Bookseller
Who's reading this?
We want to read this book