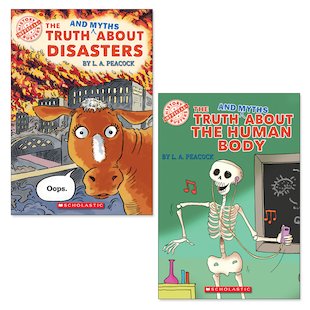 Look inside
History Busters: Truth and Myths Pair
For every true word spoken, a lot of old rubbish gets said too! Truth and nonsense: can you tell which is which? Help is at hand in the hilarious (and extremely useful) History Busters series, which helps you separate facts from popular myths. In these two books, we'll be looking at two fascinating topics: natural disasters and the human body. Seriously – is it true that a cow started the Great Chicago Fire? Or that your little toe has the smallest muscle in your body? The myths can be very entertaining. But the truth is also pretty cool!
A fun-filled 'true or false' approach to factual learning
Not just history – this covers biology and geography too!
High-interest topics: natural disasters and the human body
Black-and-white illustrations with photos and cartoons