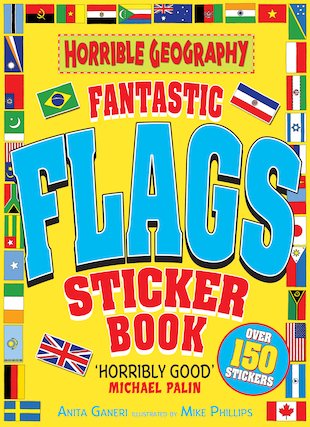 Look inside
Horrible Geography: Fantastic Flags Sticker Book
It's an atlas. It's got flags. And it's horrible! Flags are now officially cooler than ever. This book has full-colour stickers of EVERY country flag in the world. (Pretty awesome, we think you'll agree.) Plus loads of great facts and funnies from the Horrible Geography jokers. There's a feast of marvellous maps to decorate with your flag stickers. And you can also stock up on incredible info about the globe's most amazing and perilous places. Freaky flag facts, teacher teasers, funny cartoons and crazy customs. The best flag book on Earth.
Fun Stuff
Activities
Colour in this great picture of a hippo with enormous teeth!

Slimy Horrible Science wallpaper for you to download!

Download this cool Horrible Science wallpaper for your PC.

Can you find all the words in this African puzzle?
Who's reading this?