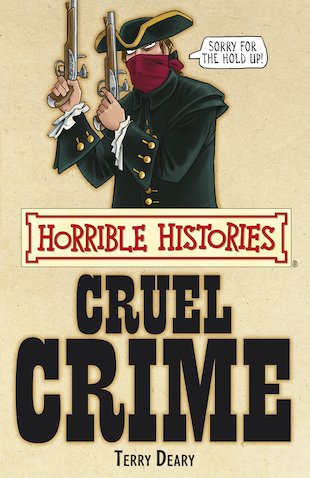 Look inside
Horrible Histories: Cruel Crime
History gets even more horrible when you're on the wrong side of the law! From vile villains to dark dungeons and cruel convict ships sailing to Australia, get the whole horrible story of past punishments and crimes! Find out who was sentenced to death by coffee, where you could be whipped for flying a kite, and why a cockerel was burnt at the stake. Learn the truth about savage school beatings, test the wits of your local policeman – and see if you can escape a brutal beheading in the Tower of London game! It's history with all the nasty bits!
#horriblehistories-shopall
Fun Stuff
Activities
Download this Knight wallpaper for your PC.

Follow the puzzle to find out what each of the knights won in their tournament.

Download this soldier wallpaper for your computer.

A fiendish Greek wordsearch!
Who's reading this?