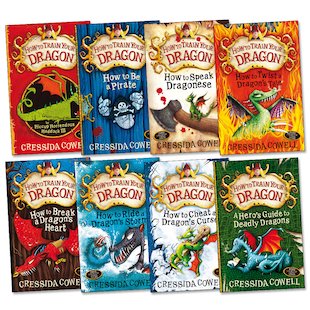 Look inside
How to Train Your Dragon Pack
Long ago, on the wild and windy isle of Berk, a smallish Viking with a longish name stood up to his ankles in snow…
Hiccup Horrendous Haddock III was a truly extraordinary Viking hero; a warrior chieftain, awesome sword-fighter and respected naturalist. He was known throughout Vikingdom as "the Dragon Whisperer," on account of his power over the terrible beasts. But it wasn't always like that… Once Hiccup was just a nerdy little Viking-in-training, not big or hairy or scary at all. Hiccup liked to think before he acted – not something bloodthirsty warriors are known for. Even worse, however terrifying he tried to look, he often just ended up looking quite… well… cute! So how did valiant Hiccup and his puny sidekick Toothless the Dragon become mighty heroes after all? Packed with fantastic cartoons and hilarious jokes, these wonderful tales of an unlikely little champ have now inspired a major Hollywood film!
"If you haven't discovered Hiccup yet, you're missing out on one of the greatest inventions of modern children's literature." Julia Eccleshare
Fun Stuff
Activities
Download freeHow to Train Your Dragon wallpaper.

Download freeHow to Train Your Dragon wallpaper.

Download a free buddy icon of Toothless from How to Train Your Dragon.
Who's reading this?