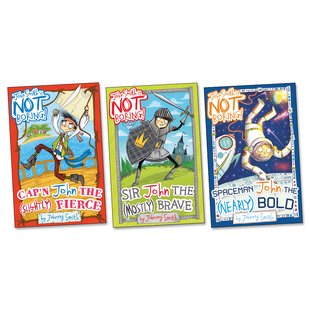 Look inside
John Smith is NOT Boring! Pack x 3
Pirates! Comets! Knights! Boring? Stay away. Only the bold and fearless will like these funny books. Read if you dare! Are you unlucky enough to have a yawnsome name like John Smith? Maybe you have a mega exciting secret. John does. He can whisk himself into other worlds and have totally wild adventures. Cool! Like: being a swashbuckling pirate. Saving the Queen as a Knight of the Realm. Or even blasting off into space! Lesson: never judge a book by its cover. And never judge a kid by his boring name.
Hilarious new comedy series for fans of Tom Gates
Packed with funny pictures and crazy adventures
Johnny Smith has written for TV's Dennis and Gnasher
He also co-wrote Disney's Gnomeo and Juliet film
Who's reading this?
We want to read this book