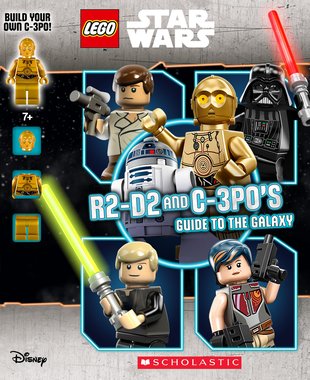 Look inside
LEGO® Star Wars™: R2-D2 and C-3P0's Guide to the Galaxy
How does the LEGO® Star Wars™ galaxy look through the visual sensors of a droid? What are R2-D2 and C-3PO's silliest jokes? Which bad guys are they most scared of? Get the scoop on your favourite sci-fi universe direct from these super-cool droids. (Don't worry: language expert C-3PO has translated R2-D2's beeps for you.) Check out all the good guys, bad guys, places and vehicles – and laugh out loud while you do it. Plus: play your own LEGO® Star Wars™ games with the C-3PO minifigure!
A quirky new look at the

LEGO

® Star Wars™ galaxy
Includes a buildable C-3PO minifigure to collect
All the action as seen by these fan-favourite droids
Silly jokes and fantastic full-colour

LEGO

® artwork
Not available to buy in: Anguilla, Guam, Johnston Island, Midway Islands, Northern Mariana Islands, Puerto Rico or Wake Island.
#ff-0410
#film-tv-nov16
#games-films-wbd
#film-tv-march17
#gift-guide-xd-film-tv
#film-tv-november-17