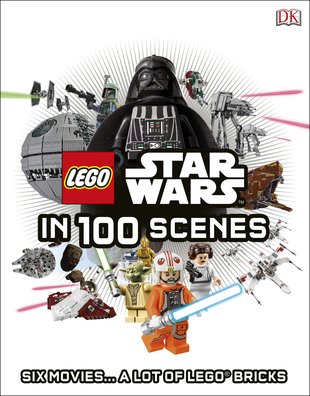 Look inside
LEGO® Star Wars™ in 100 Scenes
Six iconic Star Wars movies retold, plus a rare minifigure. Do we even need to say more? Not much is more epic than a Star Wars movie. Well, apart from six of them. And when those six movies are retold in LEGO® scenes, the result will completely blow your mind! That's why our LEGO® HQ heroes have made this masterpiece. An epic recreation of Episodes 1-6 in LEGO® bricks and stunning colour artwork. Plus: there's a Luke Skywalker minifigure to act out your own games with.
The ultimate celebration of

LEGO

® Star Wars
Limited edition Luke Skywalker minifigure
100 scenes from six films retold in

LEGO

® toys
Facts, jokes and behind-the-scenes secrets
Not available to buy in: Anguilla, Guam, Johnston Island, Midway Islands, Northern Mariana Islands, Puerto Rico or Wake Island.
#black-friday-2015
#crown-jewels
#ff-0410
#film-tv-nov16
#screen-gaming-17
#gift-guide-xd-film-tv
#film-tv-november-17