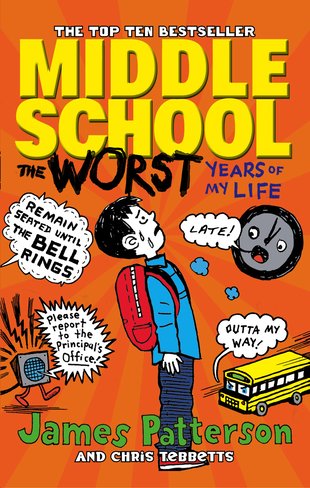 Look inside
Middle School: The Worst Years of My Life
Beyond massive. Cheeky Rafe is on top of the world. (Even if he's still bottom of the class.) Not many sixth-graders pose a challenge to the King of Wimps. But Rafe is exceptional. His books break all the rules of what a middle-school kid can do. And we mean that. Rafe's just been sent to Prison; that is, Hills Village School. But he's not going quietly. He's tearing up the evil Code of Conduct by breaking every rule. Running in the hall: 10,000 points. Pulling the fire alarm: 50,000 points. How long can he keep it up? The good news is, this book is first in a big series. So the fun won't end any time soon.
First in this blockbusting, hugely popular series
Hilarious look at the ups and downs of school life
Brilliant doodles full of dramatic visual impact
James Patterson has sold over 300 million books
#middle-school-17
#anti-bully-olderfiction-related
#anti-bully-all-older-fiction
#anti-bully-all-olderandteen-fiction
#anti-bully-all-older-and-teen-fiction
Who's reading this?
We want to read this book