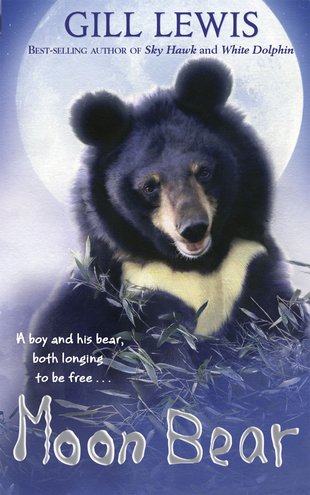 Look inside
Moon Bear
When twelve-year-old Tam is sent to work at a bear farm in the city, he is horrified by the cruel and heartless way the animals are treated. But what can he do? His family are in desperate need of the money his job brings. He despairs – feeling trapped and alone – until a sick bear cub arrives on the farm. Tam nurses his new friend back to health and they come to share an unbreakable bond. Now he is more sure than ever that he must do something to break the cycle of cruelty. He vows to give this special bear his freedom back – but it will take all his courage to stand against his employers, especially when the lives of his loved ones are at stake.
Based on the real-life plight of bears imprisoned on bear farms in Asia, Moon Bear is an unforgettable story of love in a place of sorrow, and bravery against overwhelming odds.
Praise for Sky Hawk:
"Opens your eyes, touches your heart, and is so engaging it almost turns the pages for you." Michael Morpurgo
"Rich in atmosphere and full of heart… A book to treasure." Julia Eccleshare, Guardian
We say:
"Gill Lewis is one of the most exciting new writers around. She writes powerful, inspirational adventures about relationships, wildlife issues and making the right choices. If you're a Michael Morpurgo fan then you'll love this." Kate, Scholastic Book Clubs
You say:
"I just couldn't put it down! I rate this book 10/10, Lewis wrote the book from the heart, it makes you cry, get angry, fearful and it's like you are actually in the middle of it all." Ben, aged 13
Fun Stuff
Activities
Love reading about animals? Here are our top tips of old favourites and the best new titles.
Who's reading this?
We want to read this book