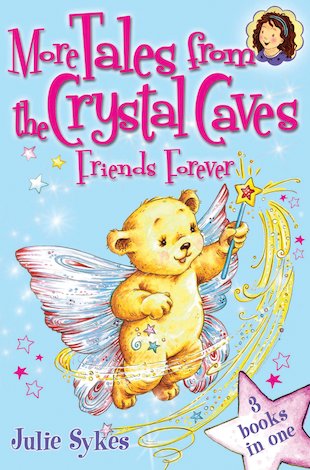 Look inside
More Tales from the Crystal Caves: Friends Forever
Visit the magical Crystal Caves and discover the secret world of the Fairy Bears! The Fairy Bears are cuddly little teddies the size of bumble-bees, with glittering wings and magic in their paws. Fairy Bears always do their best, working hard to care for the world and all its animals, plants and children. That is the Fairy Bear Promise. But you'll have to be quick to see them, and you'll have to believe in magic… Now three little bears are each on a special mission to help somebody out. Can Blossom cure Chloe of her stage fright? Will Sparkle be able to find a new home for a colony of butterflies? And can Primrose track down the perfect pet for a lonely little girl? Three sparkly stories in one book!
Fun Stuff
Activities
Dizzy and Sunny are the best of friends. Colour this picture of them on the way to school.

Is your favourite flower a rose like Blossom? Do you love drawing like Misty? Fill in this fun fact file and share with your friends too.

Help the Fairy Bears find all of the magical words in this puzzle.
Who's reading this?