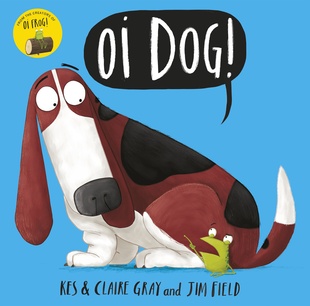 Look inside
Oi Dog!
Winner of the 2017 Lollies Picture Book Award
Take a seat: your Oi Frog! hero is back. But he's changed the rules! Dogs no longer sit on frogs. Phew! Dogs now sit on logs. So everyone else needs a new place to sit too. Will cats want to sit on gnats? Will spiders agree to sit on gliders? Will whales be happy to sit on nails? Most importantly, where is FROG going to sit? Clue: Dog might not be very happy… Laugh till you fall off your chair. (Or your log. Or whatever.)
The laugh-out-loud sequel to instant hit Oi Frog!
Oi Frog! was nominated for the Greenaway Medal
Hilarious rhyme with Jim Fields's cheeky artwork
By the author of the award-winning Daisy books
#bedtime-stories-1016
#top12-126
#favourite-authors-wbd
#funnybooks-isbc-mini
#reluctant-readers-17
#lollies-2017-all
#lollies-picture-book
#lollies-shortlist-pb
#lovetolaugh-reading-collections
#lollies17winners
#world-book-day-2018
#sum-18-ie
#oi-cat-reading-list