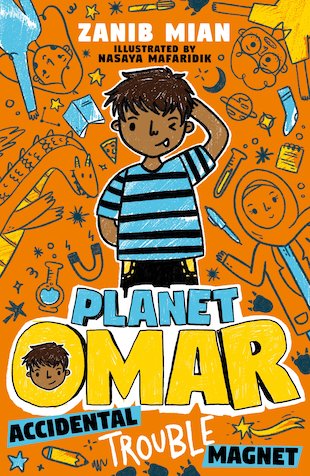 Look inside
Planet Omar #1: Planet Omar: Accidental Trouble Magnet
Love Tom Gates? Say hi to Omar. Doodles, dragons and Eid feasts! New home. New school. New bully. When Omar and his parents move house, our hero suddenly has all sorts of stuff to deal with. But it's not all bad news. Eid is just around the corner, which means a feast (YAY) and presents (DOUBLE YAY). Well, as long as Omar can stay in Mum and Dad's good books long enough. But all sorts of crazy things are happening – not just in real life, but in Omar's livewire brain, which is always fizzing like a firework. Dragons, zombies, big laughs, delicious treats. Share them all with Omar in this book!
Fresh, funny illustrated fiction with an endearing hero
Perfect for fans of Tom Gates and Diary of a Wimpy Kid
A quirky look at growing up Muslim in modern Britain
This hugely readable story won the Little Rebels Award
"A fantastic book full of humour and eccentricity." Darren Chetty
"This is a very funny and very effective challenge to the widespread misrepresentation of Muslims in the news. More children need to get to read this book." Patrice Lawrence
Who's reading this?
We want to read this book