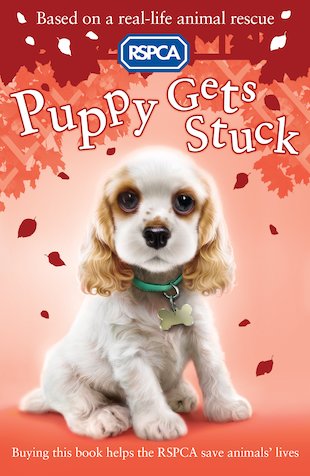 Look inside
RSPCA #2: Puppy Gets Stuck
A heartwarming tale of a baby animal in need of love. Show your love by buying it and saving real animals!
Emily's family has a new puppy – a cheeky little scamp called Pickle. And a pickle is exactly what he gets into when he decides to go exploring! The family are all out on a walk when Pickle goes missing. He's fallen into an old mineshaft! The RSPCA and the fire brigade send a winch down and try to coax Pickle into the harness. But a scared Pickle refuses to get in. How will they get him to obey? Based on a real-life animal rescue, this dramatic story is part of a new series which helps to raise funds for the RSPCA.
Fun Stuff
Activities
Love reading about animals? Here are our top tips of old favourites and the best new titles.

Find out all about the fantastic new RSPCA fiction series, plus animal facts and behind-the-scenes extras.
Who's reading this?
We want to read this book