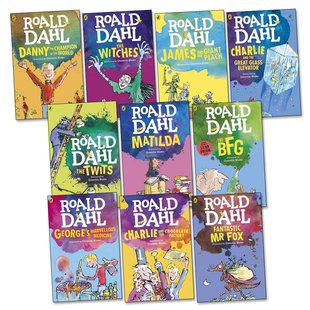 Look inside
Roald Dahl Pack x 10
A phizz-whizzing new look for Roald Dahl's cheeky classics. Miracles, marvels and more giggles than a herd of elephants tickling each other with their trunks. Truly Dahl-licious! Can you imagine being kidnapped by a giant whose stride is as long as a tennis court? Or crossing the Atlantic Ocean in a giant peach, with a crew of boy-sized bugs for company? Or visiting a chocolate factory full of lip-smacking secrets? Every sentence sizzles with genius. No other author comes close.
Ten storming classics by the legendary master of funny
Reissued with an exciting and collectible new cover look
Full of imagination, humour and unforgettable characters
"A true genius… Roald Dahl is my hero" – David Walliams
#crown-jewels
#bestselling-bookpacks-10
#bookpacks-0816
#funnyfiction-1309
#roald-dahl-day-17
#gift-guide-xd-magic-adventure
#gift-guide-xd-classics
#gift-guide-xd-bestsellers
#isbc-handpicked
#building-fluency
Who's reading this?
We want to read this book