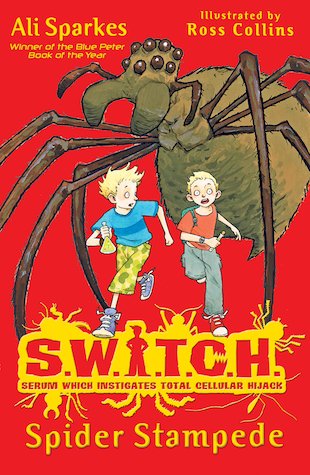 Look inside
SWITCH: Spider Stampede
SWITCH.
Serum Which Instigates Total Cellular Hijack. The serum which can turn you into something else. Invented by Petty Potts – a completely crazy scientist who also happens to be Josh and Danny's nutty next-door neighbour! When the twins sneak next door to find their runaway dog, Piddle, they accidentally run into Petty's beastly serum! One stray squirt – and the twins find themselves with eight legs and the ability to shoot webbing out of their bums! Help! Now Josh and Danny are in BUG trouble. They must make a dangerous journey back across the garden in the hope that Petty can switch them back. But it's a big bad world out there, and the brothers are no longer top of the food chain…
Fun Stuff
Activities
Can you spot ten differences in this puzzle?

Download some bugtastic wallpaper!

Can you find all the hidden words?
Who's reading this?