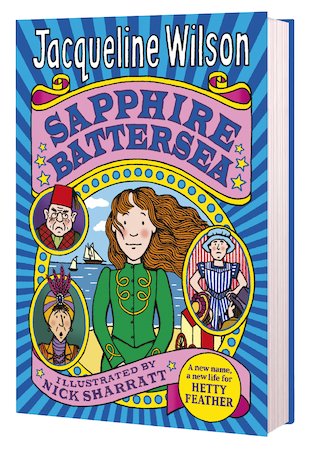 Look inside
Sapphire Battersea (Hardback)
The brilliant sequel to the bestselling Hetty Feather!
Hetty is a foundling girl, given her name when she was abandoned as a baby. But she always longed to be called Sapphire, after her beautiful blue eyes. Now that she has finally been reunited with her mother, she hopes that her new name, Sapphire Battersea, will also signal a new life! But life doesn't always go as planned… Follow the twists and turns of her adventures as she starts work as a maid for a wealthy man. She even finds a new sweetheart, Bertie the butcher's boy, who whisks her away from her household chores to experience the delights of the funfair! At last, happiness seems within reach for Hetty. But her future may also take a darker path. Can she cope with the trials that lie ahead?
#reading-lists-9
Fun Stuff
Quizzes
Activities
Download free Hetty Feather wallpaper.

Which books have you read?

Read the first chapter of Jacqueline Wilson's brand new book Sapphire Battersea.