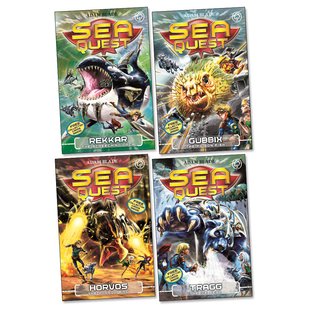 Look inside
Sea Quest Pack: Series 4
What's better than a Beast Quest? A sci-fi Sea Quest. Check out the robo killer whale. Sharks are for wimps. In this fourth Sea Quest series – 'The Lost Lagoon' – Max and Lia are trapped on a doomed sea from which legend says there is no escape. And they've got unwanted company. Like: a killer whale with machine guns in its massive jaws. Plus a deadly eagle with flamethrowers on its wings. We wouldn't bet on Max and Lia to survive – except that our heroes always do!
#reading-lists-7
#reading-lists-9
Fun Stuff
Activities
Here's an action-packed picture of Silda the Electric Eel for you to colour!

It's the sensational new series from the creator of Beast Quest! Download free Sea Quest wallpaper.
Who's reading this?