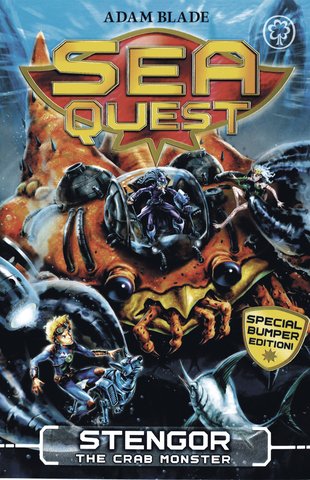 Look inside
Sea Quest Special #1: Stengor the Crab Monster
A bumper special from the new sci-fi series by the creator of Beast Quest – with gadgets and evil Robobeasts!
Max's best friend, Lia, is dying. The only thing that can save her is the legendary Frost Flower, and it can only be found in the distant, dangerous Cold Peaks. Max is determined to save his friend, but there is another obstacle. The evil Professor also wants the healing flower. He has even created a terrifying new Robobeast to get it. Now Max must contend with Stengor the Crab Monster in order to save Lia from mortal danger!
Includes four collector cards.
Fun Stuff
Activities
Here's an action-packed picture of Silda the Electric Eel for you to colour!

It's the sensational new series from the creator of Beast Quest! Download free Sea Quest wallpaper.

Dare you dive in? Download cool Max wallpaper.
Who's reading this?