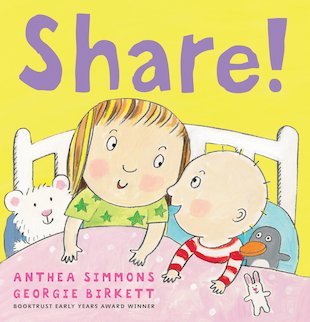 Look inside
Share!
It's no fun sharing with Baby! He dribbles on toys, rips books and chews up jigsaw puzzles. However annoying he is, Mummy always says "Share!" So his big sister decides to share some other things; waffles that Baby can't eat, and paints that turn him blue! All the same, she can't deny that some things are nice to share with Baby – like bubble baths, and snuggly bedtimes with Mummy… The bond between a big sister and her baby brother is beautifully brought to life in this endearing board book.
"The book's got a rattling rhythm that makes it fun to read aloud, it's funny and the pictures are lovely. Highly recommended!" Armadillo Magazine
"A heartwarming picture book [with] delightful illustrations. There's just the right balance between naughty humour, sibling rivalry and affection." Daily Mail
"A very sweet tale of siblings and sharing, with a suitably snuggle-up ending." Families Magazine South West
Who's reading this?
We want to read this book