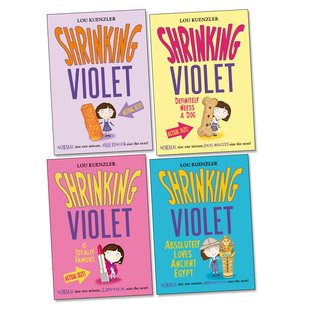 Look inside
Shrinking Violet Pack x 4
Do you like fish fingers? Then you'll love Violet. She's always shrinking to fish finger size. And her stories are totally tasty. Imagine being as small as a lipstick. Or a dog biscuit. That's what it's like being Violet. Her personality might be BIG, but she's always shrinking. Usually at exactly the wrong moments. (Like: on the Plunger rollercoaster, just as she's finally grown tall enough to ride it!) Read on if you like books as funny as Roald Dahl, as quirky as Clarice Bean and as shrink-tastic as Mrs Pepperpot. Tiny heroine: BIG LAUGHS.
Fun Stuff
Activities
Meet Shrinking Violet – and colour her in!

Shrinking Violet is a series about a girl who discovers she can shrink to the size of a biscuit! Download our free puzzle sheet.