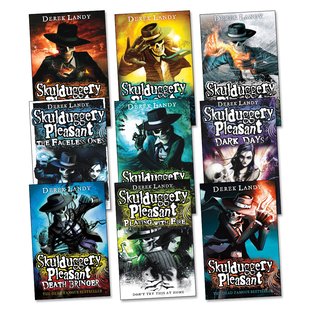 Look inside
Skulduggery Pleasant Pack x 9
Like horror? Like chuckles? Not at all squeamish? Read this! The very funny cult series that's given horror fiction a good hard kick up the backside. It all starts when Stephanie inherits her Uncle Gordon's estate. He wrote horror fiction. Or was it horror fact? Now Stephanie is being chased by vampires, demons and monsters. Only one person – we use that term loosely – can save her skin. He's a detective. He's a magician. He loves to crack daft jokes. And (this is where it gets freaky) he's a skeleton. Yikes.
Hilarious horror full of wisecracks, suspense and action
The first Skulduggery book won the Red House Award
"Hugely enjoyable… thrill-a-minute" – Jonathan Stroud
Bestselling series that has made a huge impact
#autumn-packs-0916
Fun Stuff
Activities
Cool wallpaper for your PC!
Who's reading this?