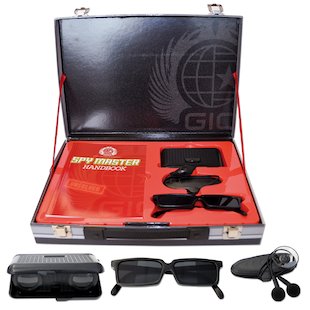 Look inside
Spy Master Briefcase
The essential spy toolkit, packed with gadgets. Every spy's gotta have it. Don't let it get away. This top-secret briefcase is our ultimate bestseller. Loads of great gadgets: everything you need to go undercover. There are binoculars to give you sight as sharp as a hawk's. Rear-view glasses that disguise you AND let you see what's behind you. A secret missions file full of top spy tips. Plus the amazing Spy Ear device, where you pretend to be casually listening to your headset – but really you're eavesdropping on baddies from several metres away!
A cool snap-closure briefcase of essential spy kit
Spy Ear device, binoculars and rear-view glasses
Spy handbook full of facts, tips and training info
Bursting with top-secret spy missions to complete
Who's reading this?
We want to read this book