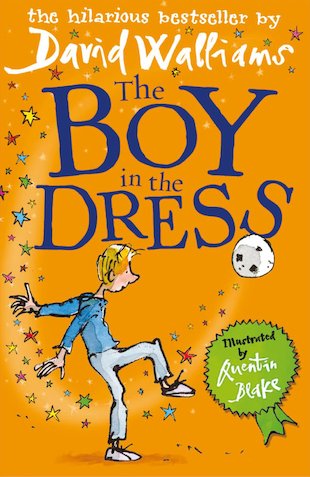 Look inside
The Boy in the Dress
Funny. Touching. And now a Christmas TV special. David Walliams has a message for you: dare to follow your dreams. Dennis lives in a boring street in a boring town. He doesn't have much to look forward to. But what he does have is dreams. They're more colourful than a rainbow, wilder than a zoo, and topsy-turvier than a rollercoaster. And once he starts to follow them, things will never be the same again. You'll laugh… you'll cry… and once you meet Dennis, he'll live with you forever. No need for gloves and mittens this winter. Read this and feel toasty inside.
#stocking-fillers
#top100-092016
#top100-ages9to11
#gr-9to10
#gr-10-11
#rr-year6
#dahl-rr
#top-100-201718-primary
#top-100-201718-911
#top100age9to11
#top100-all
#top100-all1718
#top100age7to11
#top100-reading-collections
#anti-bully-youngerfiction-bullying
#anti-bully-all-younger-fiction
#sum-18-ie
Fun Stuff
Quizzes
Activities
Can you complete The Boy in the Dress crossword?
Who's reading this?
We want to read this book