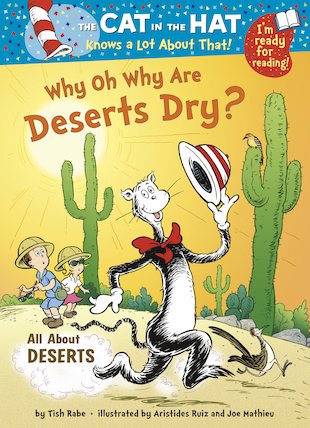 Look inside
The Cat in the Hat: Why Oh Why Are Deserts Dry?
"You may think that deserts are empty and bare, but you'll be surprised by the things we'll find there – insects and lizards, flowers and snow. Want to see for yourself? Buckle up and let's go!"
A riotous rhyme featuring an all-time classic character! Come and feel the heat with the Cat in the Hat! Set off on a thrilling journey to the world's deserts, where you'll explore some of the most extreme habitats on earth. From the scorching Sonoran and Mojave to the bitter cold Gobi, find out why deserts are so dry. See how plants and animals survive – including cacti, kangaroos, penguins, roadrunners and camels! Packed with fascinating facts and told in jaunty rhyme, this desert adventure is the hottest read around!