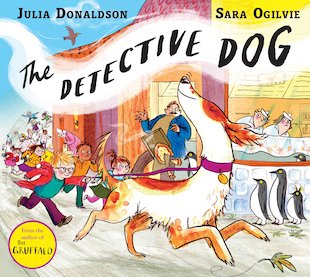 Look inside
The Detective Dog
Rhymes, crimes and a dog who loves stories. Julia's latest funny book is a tail-wagging delight! Maybe you have a dog who's great at begging for treats or chasing sticks. Peter's dog, Nell, has a talent for sniffing out clues. Who does the lost shoe belong to? Who did a poo on the new gravel path? Nell's nose knows! But Nell doesn't just love sniffing out mysteries. She adores stories. Every Monday she goes to school with Peter and listens to the children as they read. So when all the school's books disappear, it's a case for Detective Dog Nell!
A hilarious new rhyme from top talent Julia Donaldson
Jaunty, charming artwork from rising star Sara Ogilvie
A wonderful celebration of books, reading – and dogs!
"This book is a delight" – The Sunday Times
#gift-guide-mini-animals
#gift-guide-mini-magic-adventure