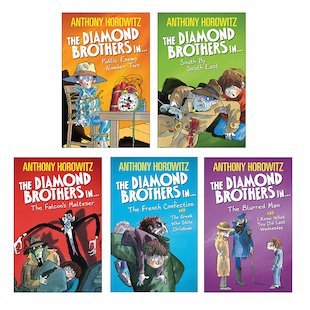 Look inside
The Diamond Brothers Pack x 5
Are you a sucker for a laugh? Do you love a killer mystery? There's lethal punfire spraying in every direction in Anthony Horowitz's daft detective spoofs. Want a mystery solving? Then DON'T hire the Diamond Brothers, the world's worst private detectives. Whether they're staking out ruthless gangsters, hunting down sinister crooks or attending a very deadly school reunion, they're always hot on the tail of disaster. And every clue they find is a red herring!
Spoof detective fiction by the author of Alex Rider
Funny mysteries which send up classic crime thrillers
Accessible shorter books with bags of pace and humour
Anthony Horowitz also writes the Power of Five books
This set contains five books: The Falcon's Malteser, South By South East, Public Enemy Number Two, The French Confection and The Blurred Man.