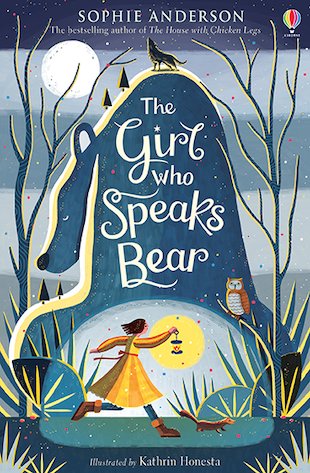 Look inside
The Girl Who Speaks Bear
Girl? Bear? Princess? Warrior? Yanka must find out who she is… People call her Yanka the Bear. Not for the obvious reason: that she was found in a bear cave as a tiny baby. It's because she's so big and strong. She stands out wherever she goes. Is there a place she'll ever fit in? Yanka tries to ignore the whispers and strange looks from the villagers. But when she wakes up one day to find her legs have turned into bear legs, she's forced to flee on a quest for answers. As she journeys from icy rivers to smouldering mountains, there will be magic, danger and friendship. But will Yanka learn where she belongs?
By the wonderful author of The House with Chicken Legs
A gloriously lyrical fantasy story about finding yourself
Interwoven with tales of bears, princesses and dragons
Carnegie Medal and Blue Peter Prize shortlisted author
"Written with passion and compassion, Anderson's talent as a weaver of magic and creator of evocative landscapes is growing with every book." The Daily Mail
"The House with Chicken Legs introduced Sophie Anderson as one of the most exciting new talents in children's books … Happily, there is no second book syndrome here, in a sparkling adventure that is even better than her debut." The Bookseller
Who's reading this?
We want to read this book