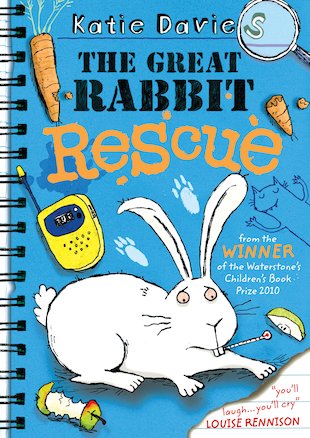 Look inside
The Great Rabbit Rescue
Joe has gone to live with his dad, leaving behind his beloved pet rabbit. Anna and Suzanne are looking after it for him, but when the rabbit gets ill, they're convinced it's because it's missing Joe so much. Then Joe gets sick too! Now the girls are certain that both Joe and rabbit are doomed to die unless they're reunited soon. But can Anna, Tom and Suzanne pull off The Great Rabbit Rescue in time? The hilarious follow-up to The Great Hamster Massacre, which won the Waterstone's Children's Book Prize 2010.
"Davies has done it again with a charming yet mysterious adventure." Bookbag.co.uk
"Written in a wonderfully conversational tone, The Great Rabbit Rescue introduces readers to some new characters, but has the same hilarious and heartwarming tones as its predecessor." Liverpool Echo
Fun Stuff
Activities
Guide the hamster through the maze – but watch out for that cat!

Unscramble the letters to find the hamster words!