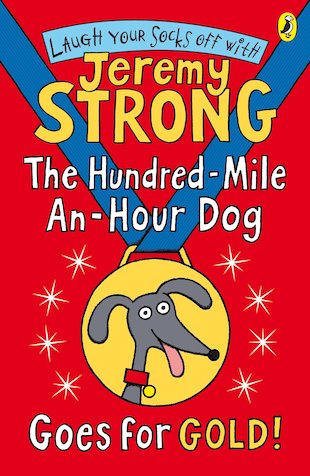 Look inside
The Hundred-Mile-An-Hour Dog Goes for Gold!
GUESS what's coming to town?! The Animal Games! All the animal athletes in Trevor's town are hopping with excitement. There's going to be show jumping for horses and rabbits, racing and Discus for Dogs – and of course, Trevor simply has to enter the Hundred-Mile-An-Hour Dog! Streaker is going to go for GOLD! But although Streaker is as fast as a rocket, she's also much naughtier! Mum says even a CARROT is more obedient! Can Trevor groom his dotty dog into a champ before the animal Olympics hit town?
Fun Stuff
Quizzes
Activities
Invent and design an event for the Animal Games!

Unjumble the letters to form titles of books by Jeremy Strong.

Speed up your desktop with this brilliant Hundred-Mile-an-Hour Dog wallpaper.

This is a weird and wonderful wordsearch!