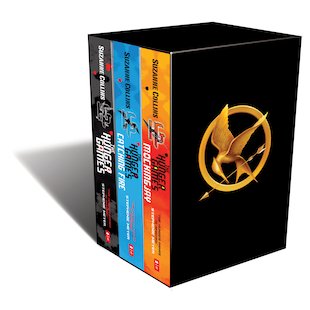 Look inside
The Hunger Games: The Hunger Games Trilogy Box Set
The TV game show only has one rule: kill or be killed. Katniss must play or die. But she won't give up without a fight…
In District 12, where Katniss Everdeen lives, life is harsh and brutal, ruled from afar by the all-powerful leaders of the Capitol. The climax of each year is the savage Hunger Games – where twelve boys and twelve girls from each District must fight to the death on live TV. When sixteen-year-old Katniss steps forward to take her younger sister's place in the games, everyone regards it as a death sentence. Only one person can survive the horrors of the arena. But Katniss has been close to death before. For her, survival is second nature… Fling yourself into the arena and surrender to heart-stopping drama. Devour the adrenaline-soaked saga that's got everyone hungry for more!
"The Hunger Games is amazing." Stephenie Meyer
"I couldn't stop reading." Stephen King
"Bare-knuckle adventure of the best kind." The Times
Fun Stuff
Activities
Who do you support in the Hunger Games? Download your Katniss wallpaper here!

Who do you support in the Hunger Games? Download your Peeta wallpaper here.

A poster of the brilliant Hunger Games trilogy for you to print out.

Read an interview with Suzanne Collins, author of The Hunger Games.
Who's reading this?