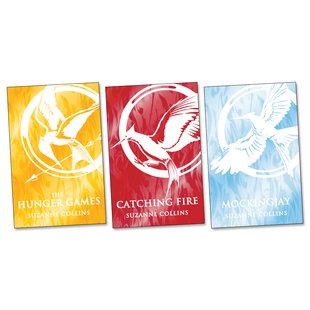 Look inside
The Hunger Games Trilogy (Girl on Fire Editions)
Burn, baby, burn! Set YOUR literary world alight with these sizzling foil editions. The perfect way to celebrate the girl on fire! Who is Katniss? The name on everyone's lips. The symbol of hope in every District. The heroine who might just tear the unjust Capitol down. Some call it rebellion. We call it payback. The time is NOW. Join the uprising!
Winner of the 2010 Red House Book Award
Stunning new editions with shiny foiled covers
"The Hunger Games is amazing" – Stephenie Meyer
"I couldn't stop reading" – Stephen King
This pack contains mature themes.
#international-day-of-the-girl-2017
#gift-guide-teen-thoughtful
#gift-guide-teen-tv-film
#gift-guide-teen-fantasy-adventure
#gift-guide-teen-bestsellers
#film-tv-november-17
#christmas-on-tv-2017
#summer-18
#sum-18
Fun Stuff
Activities
What to read next if you love futuristic dystopias like The Hunger Games.
Who's reading this?