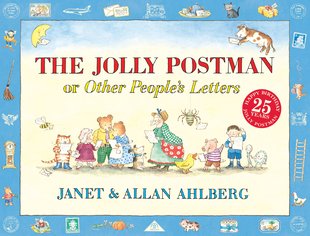 Look inside
The Jolly Postman
One of the greatest novelty books of all time. A postbag of secret letters from Fairyland – and YOU get to peek inside them! Why is this lucky postman so jolly? Well – he delivers letters and cards sent by fairytale folk. Do you want to look at them? We do! Goldilocks has posted a letter of apology to the Three Bears. (She's sorry she ate their porridge.) Jack has sent a postcard to the Giant. But how will the Postman reach his front door? There's even a letter from Little Red Riding Hood's lawyer, addressed to the wolf who ate Grandma. Where else can you find a book with that?
A timeless Janet and Allan Ahlberg interactive classic
Novelty format lets readers open and read tiny letters
Unique and funny way to revisit favourite fairy tales
Over five million Jolly Postman series titles sold
#interactive-07092016
#classic-pb092016
#bedtime-stories-1016
Who's reading this?
We want to read this book