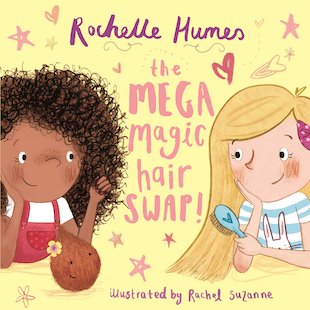 Look inside
The Mega Magic Hair Swap!
A joyful story of loving yourself from head to toe. Who's perfect? You are! Perfect hair! We all want it. But is it dark, curly and whirly, like Mai's? Or golden and straight, like her best friend Rose's? Mai wishes her hair would behave. Why can't she have perfect hair, like Rose? But Rose's hair is too slippy and slidy to style. Why can't she have perfect hair, like Mai's? Then along comes a magical coconut, which grants each girl their wish. Finally, they have the hair they dreamed of! At first, it's great. But after a while, they both wonder if maybe their hair was perfect the way it was before…
A charming, funny picture book by Rochelle Humes
All about celebrating difference and loving yourself
Rochelle is a TV presenter and The Saturdays pop star
A heartwarming story with whimsical, pretty artwork
Who's reading this?
We want to read this book