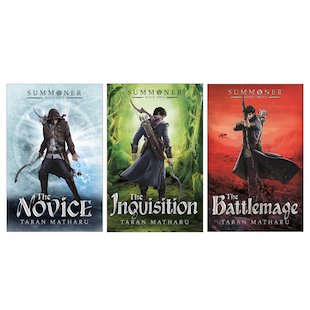 Look inside
The Summoner Pack x 3
Demons! Battles! Fights to the death! The phenomenal fantasy series that's made having your own demon cool. Fletcher is the cursed/blessed one: the weirdo with the gift of calling up demons. Chased out of his village, he ends up at Vocans Academy – a school where he can master the art of summoning. In a series of gruelling lessons, Fletcher and his demon Ignatius must learn the art of fighting for right. (After all, who said all demons are evil?) There will be friendships, discoveries, betrayals and epic battles. But can Fletcher and his demon prevent all-out war?
A fantasy phenomenon from a hugely gifted young author
The first Summoner book started as a blog on Wattpad.com
Since then it has become a New York Times bestselling hit
Look out for Taran Matharu's new sci-fi series, Contender
This series contains mature content.