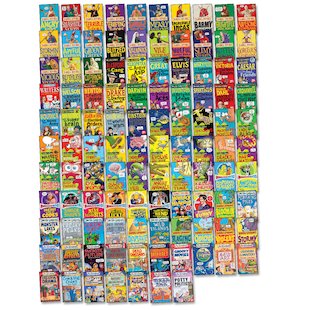 Look inside
The Ultra Horrible Mega Pack
Guess what! It's the EVEN MORE ultra horrible mega pack – now including Murderous Maths and a killer quiz and joke book! Are you horrid enough to handle it? Some of you readers are seriously horrible. Even when we offer you our biggest pack of punishment, you just keep on asking for more! Just to remind you: our ultra pack already contained five frightful series to curdle your guts. But apparently all that wasn't nasty enough! So now we're bringing you YET MORE. Packs simply do NOT get more murderously massive than this. Count yourself the superstar of nasty knowledge!
Fun Stuff
Activities
Download this Knight wallpaper for your PC.

Who's a pretty boy then? A swashbuckling download for your computer.

Download this soldier wallpaper for your computer.

Download free Horrible Histories wallpaper!

Colour in this great picture of a hippo with enormous teeth!

What do caterpillars turn into? Join up the dots to find out, then colour it in.

Download this cool Horrible Science wallpaper for your PC.

Slimy Horrible Science wallpaper for you to download!
Who's reading this?